QC Airport 101
May 31, 2022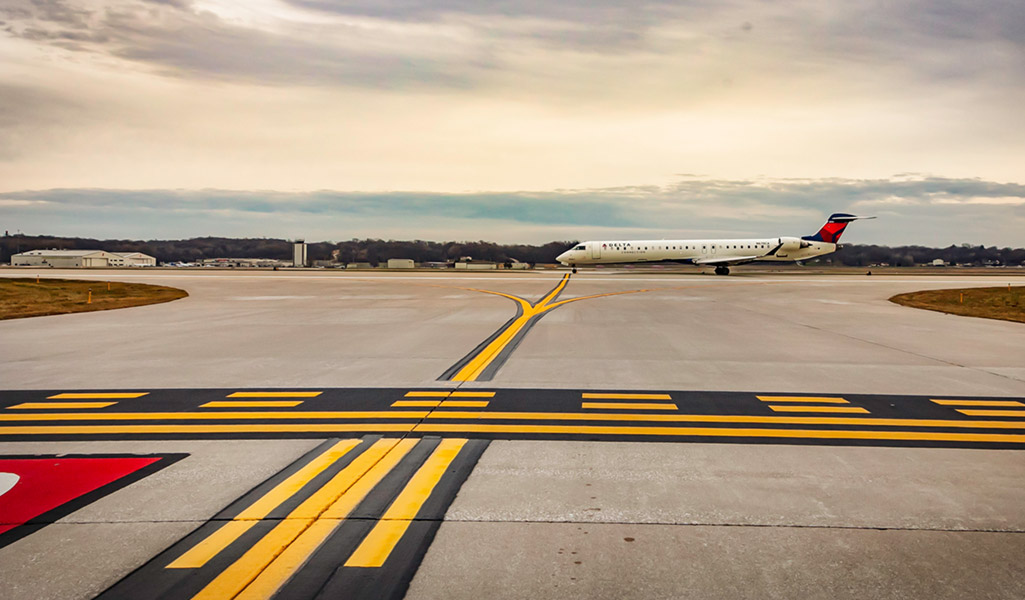 Think you know everything about your hometown airport? We're giving a crash course in all things MLI – from what it means to be a regional airport to how to take advantage of our 10 destinations and hubs to go anywhere in the world. Test your knowledge or you may even learn something new in what we're calling QC Airport 101.
Start small. Go anywhere. MLI is considered a regional airport.
Regional airports feed larger airports and typically operate with smaller aircraft or low-cost airlines. Many airlines will use a regional company that flies under their brand name to help connect people in smaller communities to their major hubs. The benefit? It's often more economical for airlines as the operating fees are lower, and there's less congestion at the terminal and in the air.
The QC Airport has two commercial runways and more than adequate gate space to accommodate additional flights. As larger airports only continue to get more congested, this is a great advantage we tout in our conversations with current and prospective airlines.
Driving economic prosperity. Why is MLI considered an international airport?
 We hear this question a lot from people that are itching for a direct flight to a beach destination outside the U.S. The 'international' designation was granted in 1986 when the Quad Cities achieved U.S. Customs port of entry status. This means the airport plays a role in connecting our community to global commerce and international trade. Next time your new iPhone or medication arrives to your home, know that could certainly have come through the QC Airport to get to you. (Interested in learning what else an airport does? Read here.)
So, will MLI ever get a commercial international flight? Hopefully! If an airline was interested in adding an international destination, there are a few additional requirements that would take some time and investment (which we're totally game for, if any airlines are reading this).
10 nonstop destinations. Where does MLI fly?
Currently, there are four airlines offering flights to 10 nonstop destinations or hubs. Why do we make the distinction between destinations and hubs? Nonstop destinations are just as they sound, you have one flight to your final destination from MLI to great vacation spots like Las Vegas or Orlando. Hubs, like our flights to Chicago O'Hare or Atlanta, are specifically in place to connect smaller communities to larger airports for the purpose of connecting to another destination.
Here's an overview of the service currently available at MLI.
Allegiant: Pete/Clearwater, Orlando/Sanford, Punta Gorda/Ft. Myers, Phoenix/Mesa (seasonal), Las Vegas
American: Chicago O'Hare, Dallas-Ft. Worth
Delta: Minneapolis, Atlanta
United: Chicago O'Hare, Denver
Flights with United, Delta and American are daily. Flights with Allegiant are twice weekly, and vary by destination.
How do I make QC Airport's destinations work for me?
Much of the decision making is simple geography. Going east? Use Chicago or Atlanta as your connecting point. Going west? Minneapolis, Dallas or Denver are all great options. For short and affordable weekend getaways, Allegiant has you covered. But beyond that, each airline also has a network unique to their operations so it's helpful to understand how their hubs work, too. The major hubs are also major factors in what routes could be added to MLI in the future. Here's a quick summary of where the major airlines fly the most, which will make sure you're narrowing your search to find the best route to your ultimate destination:
American: Dallas, Phoenix, Charlotte, Miami
Delta: Atlanta, Boston, New York, Salt Lake City, Seattle
United: Washington Dulles (D.C.), Denver, Houston, Los Angeles, Orlando International, Newark
Now that you know the basics, spread the word! MLI is one stop from anywhere in the world, including your favorite vacation destinations, all with the comfort and ease of being in your backyard.