TSA 101: Tips to Save Time and Frustration
August 22, 2022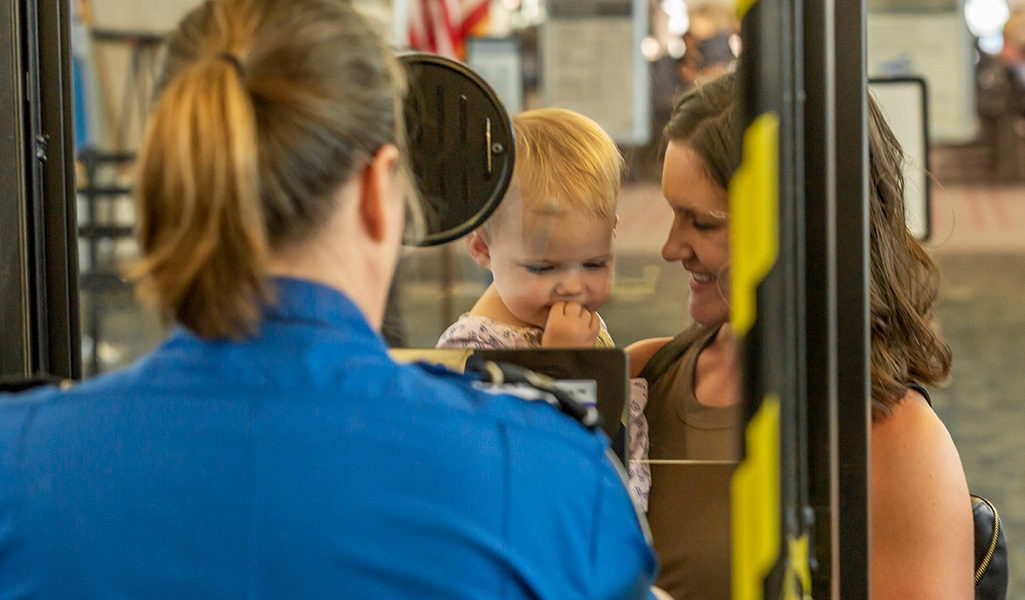 We often hear from travelers that going through the security checkpoint is one of the most stressful parts of flying. This can be especially true for first-time travelers, infrequent travelers and people who are flying for the first time with young kids. But even frequent travelers will tell you it can be intimidating. Although our passengers tell us going through TSA at the QC Airport is a breeze, we've simplified some of the most confusing parts of the process with the four things you need to know. Plus with MLI's short lines and friendly staff we're here to help you have a stress-free start to your trip.
Identification
Travelers over the age of 18 will need to have a valid form of identification to travel. A driver's license, for example, is sufficient for traveling within the U.S. Keep in mind that this regulation is changing and starting May 3, 2023, you'll need what's known as a REAL ID to fly. This is a modified version of your driver's license and can be obtained at the DMV. Or, you can use a passport to fly anywhere in the world.  Here is a list of all the acceptable forms of identification. Make sure your ID is easy to access and that you don't accidentally pack it in your carry-on. Airlines may have different requirements for flying with children under 18 so be sure to contact your airline to understand their requirements.
Shoes on, Shoes off
It's hard to believe but TSA didn't exist prior to 2001. It was created after the events on 9/11 and its primary goal is to ensure the safety of the traveling public. This comes in the form of a lot of interesting things – like having to remove your shoes and place them in a bin to be scanned. There are exceptions if you are over the age of 75 or if you have TSA PreCheck. So how do you hack this process? Wear shoes that are easy to slip on and off – lace-free, if possible! And if bare feet aren't your thing, make sure you wear socks, too. Cardigans and jackets will also need to be removed if you are younger than 75 and you can place those items with your shoes so you aren't juggling multiple bins plus your carry-on bag. Make sure your kiddos are prepared for this process and that they will need to put their items on the belt to be scanned.
The 3-1-1 liquid rule
If there is one rule that causes the most confusion (and tossed items), this would be it. The most important thing to know is that liquids, gels, creams and aerosols cannot be in a container that is larger than 3.4 oz. This includes makeup, hair products, toiletry items, beverages and food. Typically, you can find the exact size of the bottle printed on the front, near the bottom so you don't have to guess. Items over 3.4 oz will be thrown away at the checkpoint, including if you have water in a fancy insulated bottle. All of the liquid items should fit into one quart-sized bag. While putting those items in a clear plastic bag helps make the screening process easier, it isn't required. If you have a toiletry bag it is fine for those items to remain there, and you don't need to remove it from your bag before putting it on the belt to be scanned. You can bring solid foods and empty water bottles that can be filled post-security.
Carry-on
While TSA has rules on what can go into your luggage, it's the airlines that set certain size requirements. As long as the bag fits through the scanner, TSA will allow it but they do enforce the two item rule. You are allowed one carry-on suitcase and one personal item such as a purse or backpack that can fit under the seat in front of you. The airlines' websites have the approved dimensions and there are stands near the ticket counter at the airport that will let you test your bag to see if it fits. The most standard dimensions are 22 x 14 x 9 including the handle (not extended) and wheels. You may be tempted to have a lock on your suitcase but be aware that if TSA needs to inspect your bag and their master key doesn't open it, the officer will remove the lock.
There are exceptions to the rules if you or someone in your travel party has a medical condition, is traveling with an infant, or another other special circumstance. Here is all the information about the exceptions available and how to navigate those both beforehand and during the screening process.
Starting with your hometown airport means short lines and friendly service from check-in to boarding. The MLI team is here to make your travel experience as stress-free as possible. And in case you need any more information about TSA, be sure to visit their website and social media channels where you can ask questions and get answers directly from the source.