The Latest COVID-19 Travel Requirements and Must-knows
August 23, 2021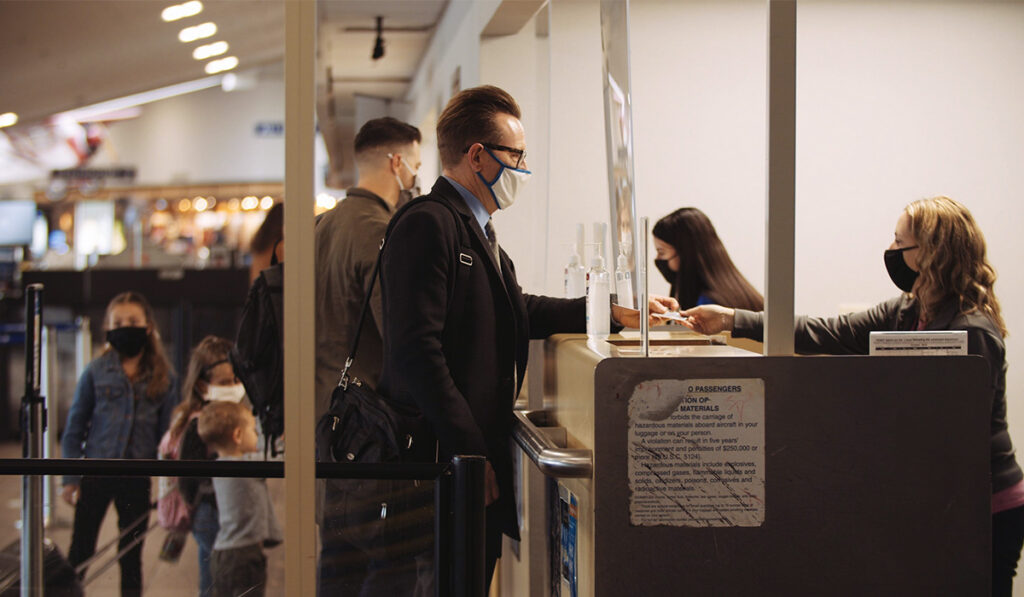 COVID-19 mitigations are changing at faster rates than at the beginning of the pandemic – businesses, cities and states are using the available data to be more nimble in their decisions. That means the situation today could look different tomorrow and as a traveler, it's important to be prepared for things to change. But for now, here's what you need to know if you plan on traveling soon.
Masks Required into 2022
Since February 2021, masks have been required in airports, on planes and other forms of public transportation. On August 20, the mask mandate was extended until at least January 18, 2022. This means in all areas of the airport, from ticket counters and TSA checkpoints to your gate and on the plane for the duration of your flight, you must have a face covering over your nose and mouth. Please check with your airline for any additional requirements. Free face coverings are available at each entrance of the airport just inside the first set of automatic doors. And please, be kind to those who have a responsibility to enforce it.
COVID-19 Tests
The short answer is, you don't need to have a negative COVID-19 test to board your plane at MLI. However, your destination or specific venues may require it, especially if you're traveling internationally. You'll need to do a little bit of research to determine if a test is needed, and if so, how far in advance you need results and what types of tests are accepted. The good news is there are tools to help passengers navigate the constantly evolving requirements. United Airlines, for example, has a Travel-Ready Center where you can enter your confirmation number and receive a summary of everything you'll need before you leave.
Proof of Vaccination
As with COVID-19 tests, there is also no industry-wide requirement to show proof of vaccination before boarding the plane. But some locations or venues may require it to enter in lieu of a negative COVID-19 test or to avoid having to quarantine. Many cruise lines, for example, are requiring proof of vaccination. While we don't have a crystal ball to say what will become permanent practice, we do know that airline and airport groups are working together to advocate for policies that will work for any size airport to simplify the passenger experience and have a true, measurable impact on ending the pandemic and subsequently keeping it suppressed.
Staff Shortages
The travel industry has not been exempt from the same staffing struggles you've likely experienced this summer. That means longer lines at ticket counters, shorter hours at restaurants and gift shops, more time waiting for your bags to be unloaded off of the plane and fewer cars available at rental car counters. Even with the staffing shortages, MLI's small size means quick and easy access to the terminal, a lightning-fast check-in and security process, short walks to your gate and the friendly, helpful service you've come to expect. Pack your patience and make sure you leave plenty of time in between connections and when making plans.
This summer, more than 140,000 passengers have traveled through MLI. Taking a trip may require a few extra steps and precautions but it is clear people are ready to travel. Do your research, wear your face covering and you'll be on your way.