From the Director's Desk: Why Does the Airport Care About Promoting the QC?
October 26, 2022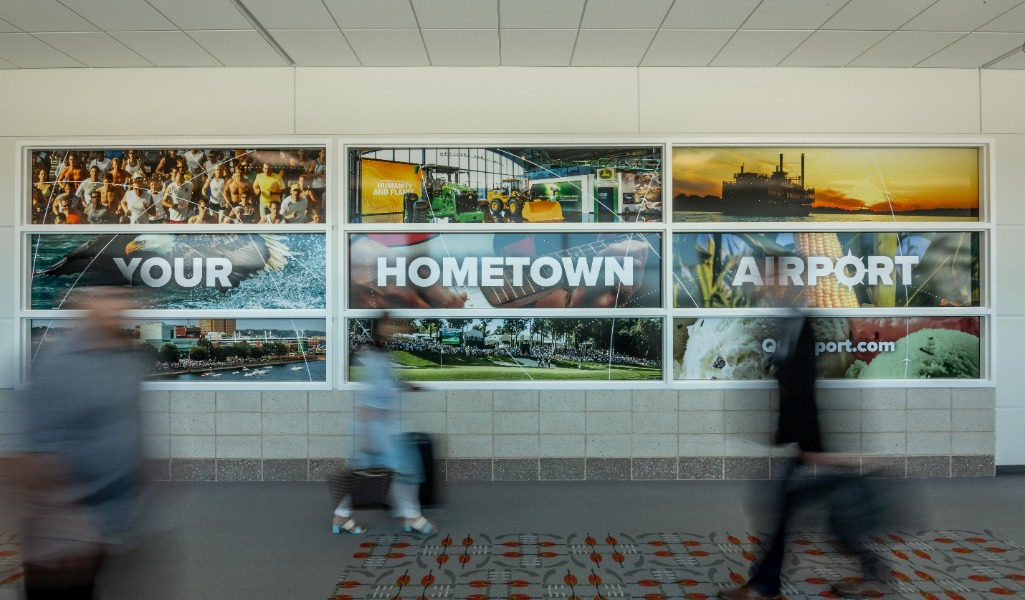 As the executive director of the Quad Cities International Airport, my main focus is ensuring the airport is the best local resource it can be for our passengers and community. That includes long-term goals like continuing to develop land around the airport, bringing in new aviation businesses and embrace the future of flight, like commercial space travel. But when I'm not thinking about where I want the airport to be in five or ten years, I'm engaged in other community efforts.
I have the honor of serving as chairman of Visit Quad Cities for the next year, and their president and CEO Dave Herrell is a tremendous advocate for our region and a great leader for our destination marketing organization.
So why does an airport director care about marketing our community as a destination? Because I firmly believe there is a pathway from visitor to residents. A growing, thriving community means the airport has rich data to give to airlines to support why we need more and bigger planes and new routes.
But throughout my time serving on Visit Quad Cities' board, I've noticed a troubling trend.
The Quad Cities is at a crossroads. We have a history of making the same decisions we've always made with apprehension to invest in tourism. I think it's time we choose a new path that embraces bold decision making and recognize that tourism is an important vehicle for growth and worthy of investment.
Every person who relocated here started as a visitor. Maybe they attended a festival, concert or hockey game at the Vibrant Arena; watched a baseball game at Modern Woodmen Park; or experienced the abundant art, culture and music. Maybe they only came for a job interview or to visit friends and family. Whatever the reason, we must not only draw them here but wow them while they're here.
In addition to the wide variety of activities available, we have to showcase the quality of life: the accessibility of homeownership, right-sized communities that offer big city amenities and regional assets (like our airport) that connect us to the world. These are the things that make people stay and enjoy our communities rather than Chicago or other Midwest destinations.
Ask any employer in the Quad Cities and they will tell you recruitment is the biggest issue they're facing. The Quad Cities is the third most affordable place to live in the U.S., in the top five most affordable mid-sized metros and the #1 place for millennial homebuyers. These are tremendous selling points, but we have to invest in marketing to convert visitors into residents.
Our bi-state location is beneficial, but our composition of many small cities and towns creates challenges, too. It requires individual city leaders to share a vision which has proven difficult in the past and led to stagnant growth. There's an underlying current of "my town versus everyone else's". But one community doesn't lose because another community wins. A prime example is that when hundreds of people use the TBK Sports Complex in Bettendorf, Moline hotels see an increase in business. That's why uplifting our region is crucial.
I understand the challenges our cities are facing. One thing I frequently hear is that it's hard to rationalize spending money on tourism when there are social issues to deal with. Social issues exist everywhere. Growing tourism, and by an extension the population, means more money flowing into our community which provides additional support of the essential services required to fix social issues.
Consider this: a small tax is charged to visitors at area hotels that's included in the overall daily rate. A certain percentage or static investment then goes to the convention & visitors bureau organization – in our case, Visit Quad Cities. Then, the CVB uses these resources to further promote and recruit meetings and events to the area.
The national average for that hotel/motel tax is approximately 50%. For every hotel occupancy, 50% goes back to the CVB. By contrast, the average hotel/motel tax investment in the Quad Cities is roughly 17%. To put a finer point on the lack of investment in tourism marketing, Dubuque, population 60,000, spends more on promoting tourism than the Quad Cities region with a population of more than 470,000. This should ignite every community leader into action.
The U.S.'s most visited cities were enthusiastic adopters of tourism marketing. Orlando was a swamp until it became the theme park capital of the world. Las Vegas launched a massive marketing campaign to reinvent itself in the 1990s and 2000s. Nashville exploded in the tourism sector in the last 20 years. In 2017, it was estimated that 94 people move there each day. But it's not just larger communities that recognize the importance of increased visitors.
I'm baffled when I hear people scoff at the idea of promoting the Quad Cities as a destination. Just like those cities, our target should be bigger than being a major place in the region. We should want, and aim, to make the Quad Cities globally known.
If you care enough to be upset at our region's current state, then care enough to invest in making it better. Care enough that you understand something has to change today if we want a different future. Our community is behind where it should be today. Leaders made the decision not to invest back then. We must be the generation that chooses a different path. We have a great opportunity in front of us and I believe we need to seize it.