From the Director's Desk: What is a regional airport? (And why does it matter?)
May 4, 2023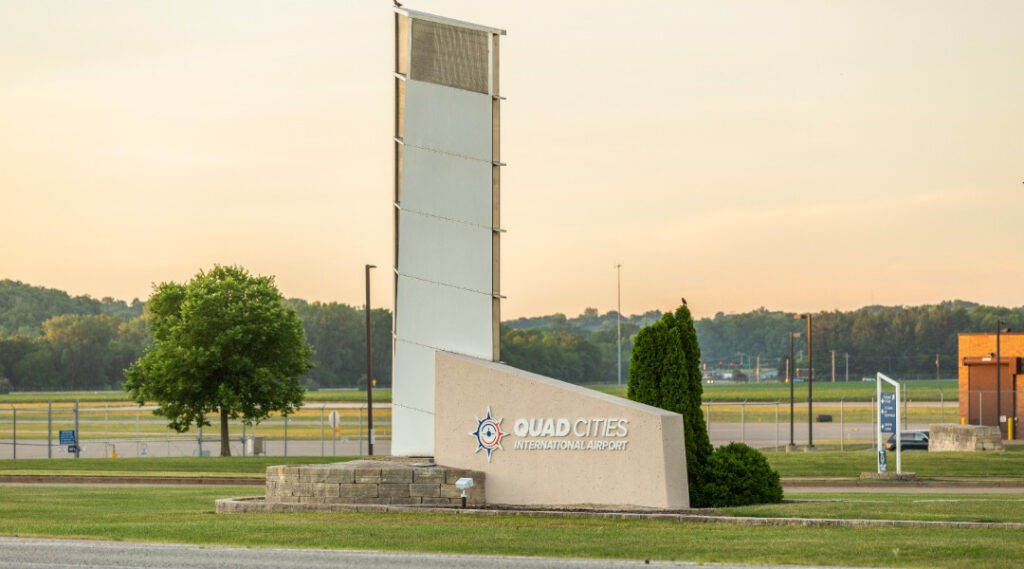 Quad Cities International Airport has been the hometown airport since 1935 with hundreds of thousands of passengers served each year. But have you ever wondered what a regional airport really is — or even what it's not? It's important to understand our airport's role in the wider airport network and in our region. Plus, with all the news about pilot shortages and small airports losing service, I'll discuss the outlook for small airports and MLI.
Let's start with the basics: the FAA categorizes airports by the number of passengers that fly out each year. QC Airport and our peers in the region are considered primary nonhub commercial service airports. In layman's terms: that's a regional airport that serves short and medium range routes, and point to point destinations.
Regional airports are getting a lot of attention because of the decrease in air service. Several airports have lost all commercial service, and more than 150 airports have lost at least 25% of their air service. But there are a lot of leaders, organizations and industry associations in our collective corner. They understand the value of a regional airport and why we must seek safe, but strategic solutions to make sure small communities stay connected to the world.
Large airports, known as hubs, rely on regional airports to feed into their network. In fact, more than 50% of Chicago O'Hare's traffic came from regional airlines in 2019, which was the highest percentage in the U.S. People wonder why the QC Airport, three hours outside of Chicago, has flights to O'Hare. This is exactly the intent for airports of our size.
We are often asked why we call ourselves an international airport when we don't have international commercial flights. This is an official designation we were granted when we achieved port of entry status in 1985. We have a customs and border patrol office that clears international cargo and private flights.
The customs and border patrol that clears cargo and private flights is not as in-depth as what's required for international commercial flights. We'd have to invest a substantial amount of money to bring it into compliance so unless or until we have a large volume of people that consistently need international travel, or an airline wants to start an international route, it simply isn't worth the cost.
Our proximity to Chicago has benefits and challenges. As a resident, I think it's great Quad Citizens are only a few hours away from the third largest airport in the U.S. Chicago O'Hare benefits from the volume of flights it offers. Airlines must keep costs competitive because the market is flooded with options. However, there are fewer flights at regional airports and thus less competition, so airlines charge a premium which can be a challenge for our passengers. Ultra-low-cost-carriers, like Allegiant, Frontier and Spirit, also help drive down prices. Unfortunately, we don't control how much airlines charge. We also don't control where and which airlines fly out of the QC. Those decisions are primarily based on data and the economic outlook of a region, along with a variety of internal factors at an airline, like how many pilots, crew and planes they have available.
With all that being said – what does the QC Airport's future look like?
Despite some of the challenges the aviation industry is facing, we think the QC Airport's future is bright. Airports are economic engines and our economic output is nearly $700 million each year. We're financially strong as an organization so we're able to offer aggressive incentives to attract routes and airlines to the Quad Cities. While resource constraints are preventing airlines from adding new routes, we want them to know the Q.C. wants their business when they're ready.
While we can't control what airlines charge for airfare, or where airlines fly out of MLI, we can control the experience our passengers have when they choose the QC Airport. We work hard to provide a stress-free, friendly experience you can only get when you choose your hometown airport. We also know our proximity in the Quad Cities can't be beaten – a short drive to the airport and, even more importantly, a short drive home, makes a difference in the overall travel experience and your time is valuable. But we also know our proximity is important to local businesses.
Regional airports are vital in connecting rural and smaller communities to global commerce, which helps businesses expand, and attracts new companies to the area. Our port of entry status is essential to major local businesses and a big reason they continue operating in the Quad Cities. Not only that, having a local airport helps attract talent. Our passengers rely on the airport for connectivity – for their business trips, vacations and visiting friends and family.
We serve the entire Quad Cities region. It's a role we take seriously but we aren't "just" a regional airport.
Commercial travel is our bread and butter, but we're pursuing other avenues that will positively impact our region. We're renovating our nearly 40-year-old terminal to be more sustainable and efficient, and meet passenger expectations for a modern travel experience. We have a thriving general aviation community that supports a flight school. Revv Aviation, Elliott Aviation and John Deere Aviation all call the QC Airport home. We're keeping our eyes on the horizon for new aviation-related technologies. And, we would love the Quad Cities to be Illinois' first commercial space port, which we believe is feasible in our lifetime.
We believe wholeheartedly in our mission which is to provide safe, efficient and convenient air transportation facilities while promoting economic development and commerce, thereby contributing to the Quad Cities region.