From the Director's Desk: Three Legislators Walk Into MLI
October 26, 2023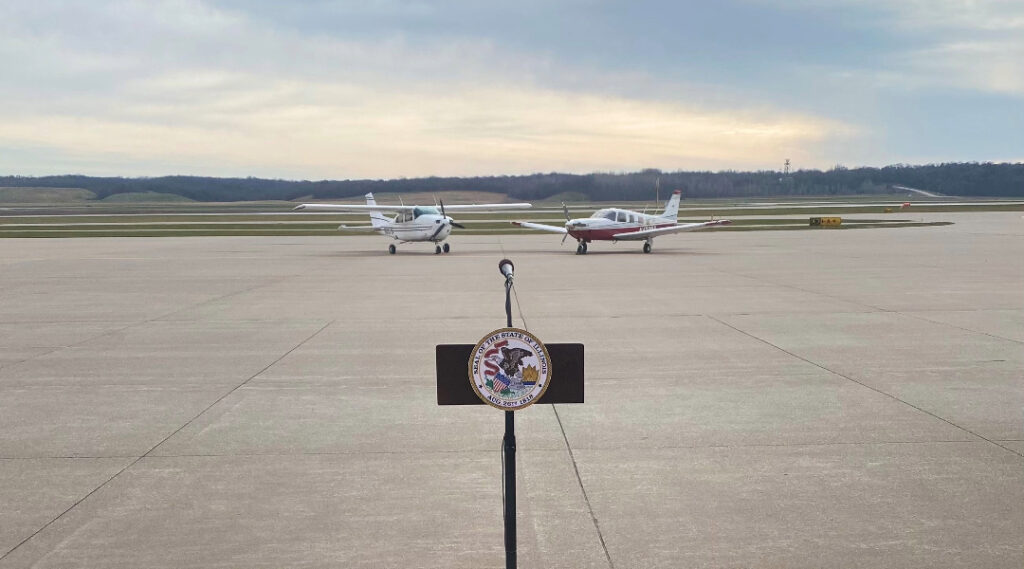 I recently met with three Illinois legislators to talk about future development and opportunities, as well as challenges impacting aviation, Illinois airports and the QC Airport specifically. It's important we have an open line of communication with our representatives. We need their support for future development, and their advocacy to help bring grant funding into our community to stimulate our local economy and create jobs. Here are just a few things that were discussed at MLI.
Recently, Congressman Eric Sorensen visited the airport to talk about one of our most exciting projects – a spaceport feasibility study. As the ranking member of the Subcommittee on Space and Aeronautics, Congressman Sorensen is uniquely positioned to understand the long-term vision for commercial spaceports. What may sound like a far-flung idea locally is better understood when put in the context of a national strategy to forecast the future needs of aviation.
In speaking with media, he mentioned the relatively short span of time between man's first flight and space travel – an example we've also used as it demonstrates the rapid evolution of flight. It also serves as a reminder that airports are planning 20 years ahead. The Congressman reiterated that it would be short-sighted to think that aviation will stop developing over the next two decades.
As a resident of Moline, Congressman Sorensen expressed personal excitement about our region striving to be competitive in such a cutting-edge industry. He sees the growth opportunities a spaceport could provide with new jobs, expanded manufacturing and talent attraction. We appreciate his support both as a Quad Cities resident and as a member of Congress.
Following Congressman Sorensen's visit, I had the opportunity to meet with Senator Mike Halpin and Representative Gregg Johnson. Rather than focus exclusively on MLI, I spoke with them as the chairman for the Illinois Airports Council (IAC). In this capacity I represent the interests of all Illinois airports, most often when it comes to pursuing legislation that will enhance our state's aviation network. IAC has championed two pieces of legislation since its founding in 2020, both of which have ensured federal funding has a clear path to the communities it is intended for, rather than passing through IDOT, which continues to be overworked and understaffed. IAC is currently working through a proposal to update aviation fuel taxes to ensure this revenue is not in violation of an FAA grant assurance, while also not creating a shortfall in the Illinois general fund. More to come but the conversation was incredibly helpful and insightful for how airports can proceed with a proposal for changes to the state.
Even though airports are government entities, I was not prepared for how much politicking would be involved in running an airport in Illinois. The Illinois legislative climate can be challenging but I am encouraged by the conversations I've had with our local representatives and our shared goals to see the QC Airport, and Illinois' aviation network, thrive.