From the Director's Desk: Reflecting on 2021
December 30, 2021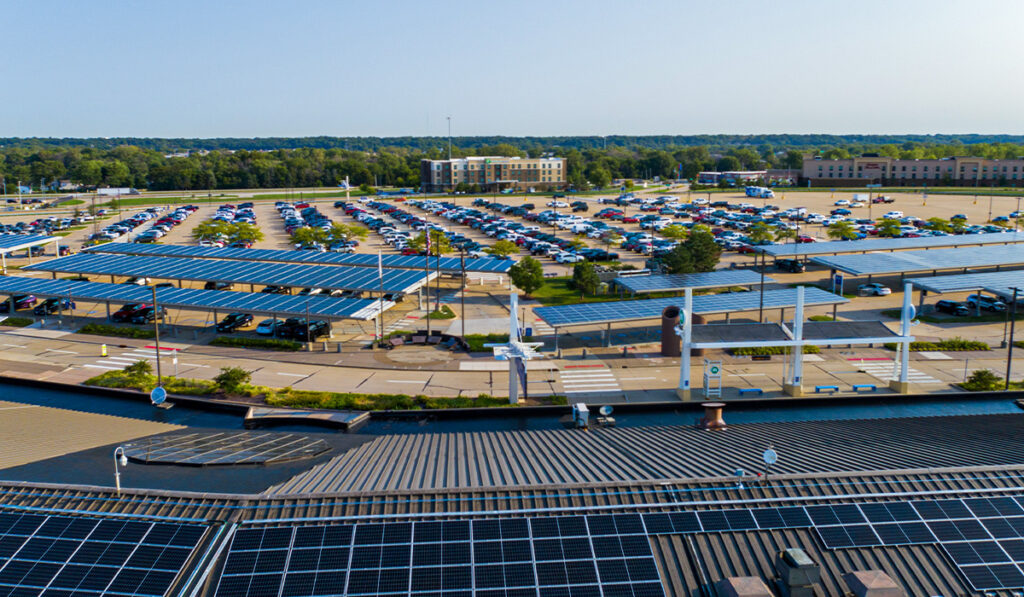 As we approach the end of the year, I'm excited to share that the Quad Cities International Airport is ending 2021 with several big wins. While it's easy to jump ahead and start thinking about the exciting things to come in 2022, it's important to stop and reflect on the achievements of this past year. This list doesn't come close to capturing every big moment but here are just a few highlights.
New funding
On December 1st, Illinois Governor Pritzker announced the distribution of $94 million to Illinois airports as part of the Rebuild Illinois capital program. Congresswoman Cheri Bustos, State Representative Mike Halpin, IDOT Secretary Omer Osman as well as other IDOT representatives were in attendance to discuss the impact Rebuild Illinois will have on every mode of transportation and reaffirm their support for Illinois' aviation facilities.
For its share, the QC Airport was awarded just over five million dollars to tackle two important airport projects. I want to thank Governor Pritzker for his commitment to strengthening Illinois' aviation industry through the Rebuild Illinois capital plan and for visiting the QC Airport to share this historic investment.
While state investment of this magnitude is something new for Illinois airports, federal investment and action has also been unprecedented. A $25 billion investment was announced for U.S. airports over the next 5 years. Part of that investment includes an allocation for airports based on activity. The Quad Cities International Airport is scheduled to receive approximately $2.86 million this year with an additional $11.5 million over the following 4 years. This money will likely be spent on new airport capital development projects, including Project GATEWAY, or specialized equipment.
New upgrades
We first announced plans to overhaul our landside terminal back in March. We knew construction was a still a long way off but there were some upgrades we wanted to make in the meantime. It started with a new brand and website to signal to the Quad Cities and beyond that MLI was looking toward the future. Since March, the MLI team:
Completed the solar panel installation project that added covered parking, more EV charging stations and brought a sustainable energy source to the airport.
Installed a new vehicle parking and revenue control system.
Installed a new, intuitive, ambient noise-detecting voice paging system in the terminal.
Added new soft seating with power capabilities in several areas of the terminal.
Completed an outdoor patio with seating, fire pit, sunshades and of course, a front row seat to the airfield.
New events
Quad Cities International Airport was thrilled to join the celebration of National Girls in Aviation Day for the first time. This annual event, established by the nonprofit organization Women in Aviation International (WAI), encourages girls to explore all the opportunities available to them in the aviation industry.
Our team wanted to give girls from the Quad Cities an opportunity to feel the magic of aviation – getting up close and personal with equipment and hearing from females from a variety of aviation careers they can look up to and aspire to be. Among the exhibitors were female pilots, drone operators, police/fire/rescue officers, ground handling and ramp operators and many more.
It was a high point of the year seeing so many female role models meet with our community's children. I hope to continue participating and introducing kids, specifically young girls, to all the amazing careers in aviation.
This list is only a snapshot of what airport staff has accomplished this past year. Beyond our employees, our travelers have a played a large role in helping to cap off what was a challenging yet hopeful year of recovery. Over the Thanksgiving holiday weekend, we saw passenger travel through the QC Airport rebound to within 6% of our 2019 holiday passenger numbers. We're ending 2021 on a much higher note than 2020, gaining back nearly 200,000 passengers.
I want to thank our employees for their dedication and resilience, and to our travelers, tenants and community partners for their continued support for their hometown airport. I'm looking forward to a fantastic 2022, and wish everyone health, happiness and safe travels.