From the Director's Desk: 2022 Priorities
January 26, 2022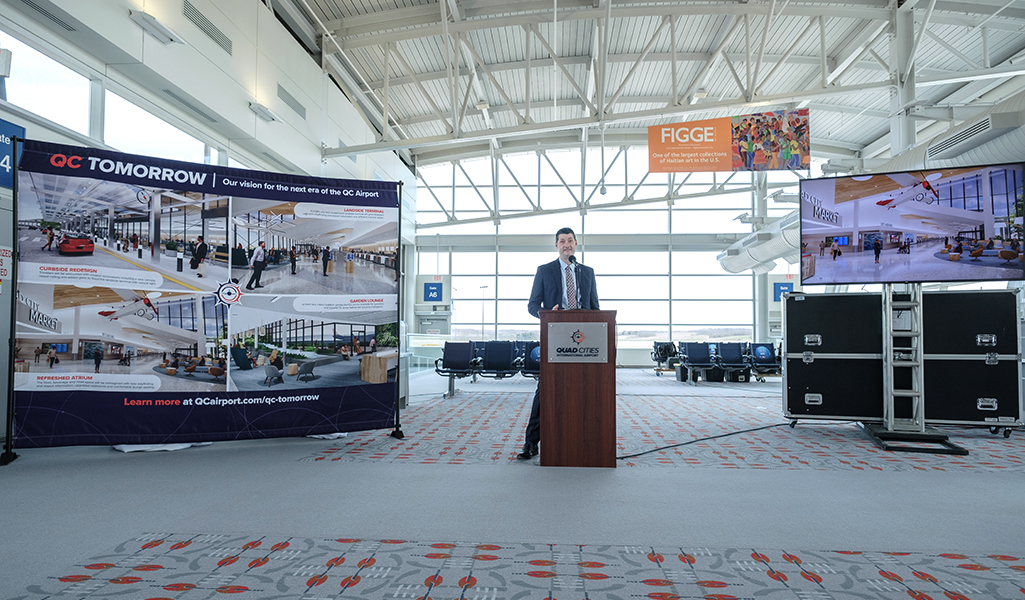 This is a pivotal time for the Quad Cities International Airport. When I accepted this position, I did so because I felt like I could have a positive impact. Of course, I had no idea the challenges airports would have to weather. Competition for air service has never been tougher as airlines chase recovery while combating the pilot shortage that loomed before the pandemic and staffing issues brought about by the pandemic. We're also at the beginning of the QC Airport's major terminal renovation. It should be no surprise then, that air service and Project GATEWAY are my top priorities for 2022.
Air Service
While I want to focus on our goals for the year, it's helpful to know some background on how getting new air routes works. Be sure to check out How to Win Airlines and Influence Routes for more information on this process.
What do airlines look for?
The decision to add new air service to MLI is made by the airlines themselves. However, by fostering relationships, sharing relevant news and continuing to understand an airline's strategic plan we can play an important role in influencing airlines to consider our airport.
Many of the factors airlines consider in adding air service have nothing to do with the airport – it's about the demographics of the region and what people are willing to pay to travel. That's why we rely on the Quad Cities Chamber of Commerce and Visit Quad Cities to grow our region with new businesses thereby growing our population, bringing new events in and increasing visitors. We speak with airline representatives several times a year and during these discussions, we provide an overview of the region, share updates on the airport and dive into data that shows what routes have the most potential to be successful.
What goals does the airport have?
The short answer is this: deliver new routes and expand travel options for the Quad Cities. We want a new route as much as anyone and if we could just 'buy' a route, we would. But that's not how it works and there has to be long-term success potential in the region. We're focusing on what we can control – which is to take every opportunity to communicate with the airlines. This past November, we traveled to an air service conference which is a great way to meet with current and potential carriers. We are traveling again this year and always exploring the best way to communicate the news and data that will have the greatest impact.
Project GATEWAY
In spring 2021, we announced several changes on the horizon. A lot of background work was completed including getting a design firm and construction lead in place. This year the goal is to wrap up preparations and start moving dirt.
What is Project GATEWAY?
Project GATEWAY is what we're calling our major terminal renovation plan. It stands for Growing the Air Travel Experience the MLI Way. This is our guiding principle for the project – we want to enhance our facility while keeping in mind what makes MLI special: ease, convenience and comfort. We're the Quad Cities gateway to the world and the first impression for people visiting our area. The airport needs to set the right tone.
The landside terminal is nearly 40 years old. Maintenance of the facility is becoming costly, post 9/11 security requirements have been patch-worked in, and traveler expectations have evolved quite a bit since 1985. All that's to say – the terminal needs to be updated and while we're at it, we're going to make it a beautiful space that's convenient, comfortable and meets a variety of traveler needs.
Why is it a priority this year?
With the team now in place, we're ready to take the concepts we unveiled in 2021 and turn them into buildable plans. We'll be looking at how to prioritize the various projects on deck and carefully consider what will have the greatest positive impact on the customer experience, how we can minimize normal day-to-day disruptions while maximizing the funding we receive from the FAA and our own investment. Barring any unforeseen disruptions, we could break ground as soon as this summer so keeping a laser focus on Project GATEWAY will be key.
I'm lucky to have a team that can do it all – the good news is, even though these are my priorities, it's not as the exclusion of other important things that keep the airport moving. I'm looking forward to a busy and exciting year ahead and we can't wait to share our progress with you.