Clean Energy Comes to the QC Airport
September 28, 2021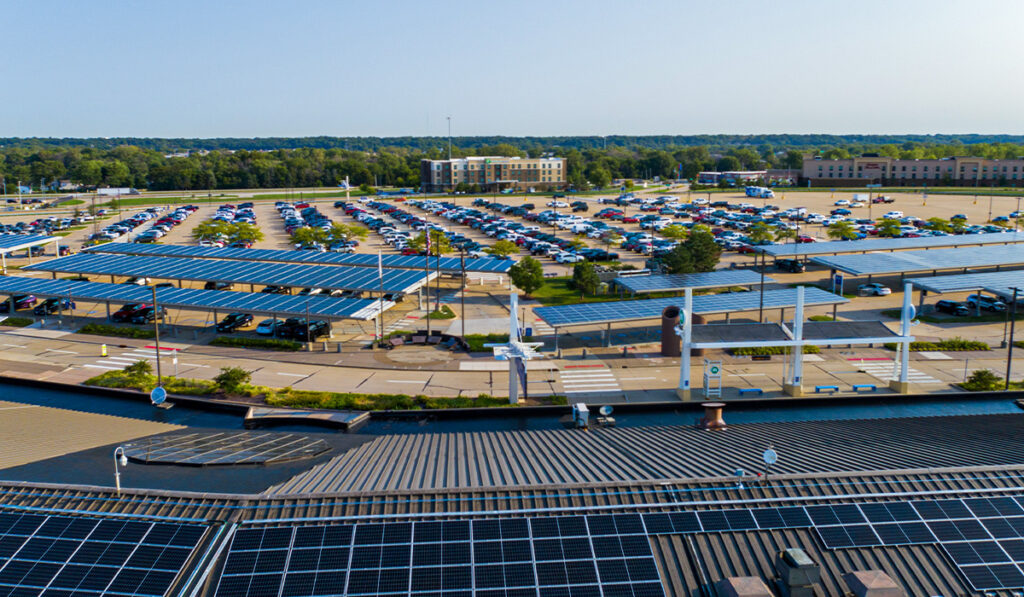 The Quad Cities International Airport recently celebrated the installation of more than 4,500 solar panels. The panels, attached to the terminal roof and newly constructed carports, will provide the airport with 50% of its annual energy consumption. Thanks to a public-private partnership, this project came at no cost to the airport and provides numerous benefits to our passengers that we're excited to share with you!
As the QC Airport continues to deliver on its promise of creating a more modern, convenient and comfortable travel experience, the carports that house the solar panels double as a covered parking option for more than 200 spots just steps away from the terminal. We know it can be stressful worrying about your vehicle sitting in the parking lot while you're away – wondering if you'll return to find hail damage in the summer or a mountain of snow and ice in the winter. This new covered parking option will protect your car from the elements so there's one less thing to worry about and you'll be able to get home faster when you arrive.
The solar panels also added to our existing electric vehicle charging stations – we now offer seven stations in the premium lot for passengers and visitors.
The covered parking and EV charging stations are located in the premium lot and are available at no additional charge. Standard hourly and daily rates apply. For more information, visit www.qcairport.com/parking-transportation/parking/.
This project is just the beginning. With passenger safety and comfort in mind, along with operational efficiency, there are many exciting upgrades and improvements on the horizon.
This month, we began installing additional lounge seating with power capabilities so you can wait for your flight in comfort while keeping your devices charged up. The new seating can be found under the Monocoupe and on Concourse B. The Concourse B seating is also ADA-accessible.
This fall, the terminal's overhead paging system is getting a total overhaul. The new system is ambient noise-sensing and can increase or decrease volume based on surrounding noise levels. The new system will also use visual paging on flight information screens for travelers or meeters and greeters who may have difficulties with hearing.
You can check out all the projects big and small to come at qcairport.com/qc-tomorrow.