Answering Your Frequently Asked Travel Questions
March 21, 2023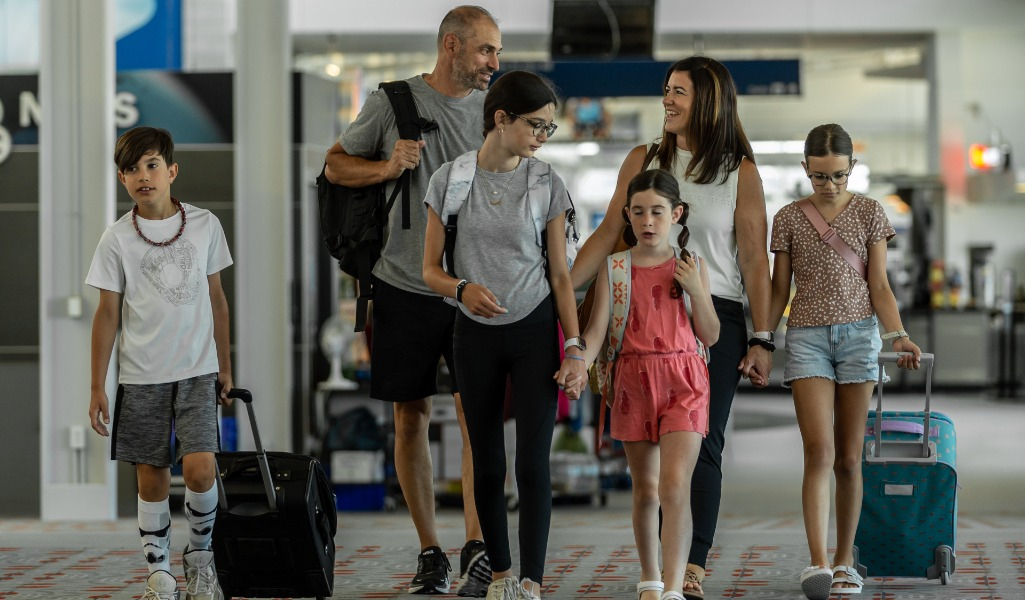 Traveling with friends and family makes for great memories. But you have to get through the airport and on the plane first. We're answering some of the most common questions travelers have this time of year.
How early should you arrive?
With everyone looking to get out of town for fun and to relax, this time of year is BUSY. In fact, spring is usually the airport's busiest time of year. MLI makes for the best travel experience because it's so close to home, and check-in and security processes are easy. But that doesn't mean you can show up 20 minutes before your flight. Most airlines have a mandatory cutoff time, and you need to plan ahead for any hiccups. While you can count on short lines at MLI, arriving 90 minutes before your scheduled departure is still recommended.
How do I know what to pack in which suitcase?
First of all, make sure you're starting with an empty bag! You'd be surprised how many little things can be overlooked and forgotten from the last vacation.
Sunscreens, like all other liquids, lotions and aerosols, must be in a 3.4 ounces container or less for carry-on bags. Larger bottles need to go in your checked bag.
Keep important medication in a personal item like a purse or backpack that can fit under the seat during the flight. If you require liquid medication or baby formula/milk that is larger than 3.4 ounces, talk to a TSA officer at the screening checkpoint.
Certain types of batteries pose serious safety issues on an airplane. Pay close attention to any electronic devices you want to bring. Lithium batteries are most common and must go in a carry-on bag. Check TSA's tool "What Can I Bring?" and type in "batteries" for a full list with instructions on how to pack them.
Got kiddos that may need a snack while you wait in the airport or on the plane? Great news – you can bring solid snacks through security. Load up those cheerios and keep them happy. Drinks and items like applesauce or Jell-O will still need to follow the 3.4 ounces rule. You can bring an empty refillable water bottle through security and use one of the bottle refill water fountains located past the screening checkpoint near the restrooms.
What if the airline loses my bag or cancels my flight?
Nothing ruins a vacation faster than tracking down lost bags. When you check a bag, you should be given a stub, usually with a bar code on it, which will match a bar code sticker that will be placed on your bag. If your bags get lost, airlines scan this barcode to locate them. It's also a good idea to take a picture of the bar code and other identifying information. Check out this link which has the lost luggage numbers for all airlines serving MLI. The use of AirTags is also becoming increasingly popular and is relatively inexpensive if you already own an iPhone.
If your flight is delayed and you're at risk of missing a connection or your flight is canceled, speak to someone with the airline in person or use the airlines' online help desks to help get rebooked or understand your options.
How can I make the security screening process easier?
At MLI, the average wait time for the security screening checkpoint is less than 10 minutes. Plus, our local TSA has a state-of-the-art CT scanner, which means no scrambling to unload every device into a bin.
Here are additional tips to make the screening process as easy as possible:
Children 12 and under can leave their shoes, light jackets and headwear on during screening.
Carriers will need to be put through the scanner. But infants can be carried through the metal detector with you.
Infants may be carried in a sling through the walk-through metal detector but may be subject to additional screening.
For everyone 12 and older, make sure they're wearing shoes that are easy to get on and off, and be prepared to place all cardigans, coats and backpacks into a bin.
Most importantly, listen closely to TSA instructions.
For more information on the security process for children, visit: https://www.tsa.gov/travel/special-procedures/traveling-childre
Why should I use MLI?
It can be difficult enough getting through an airport, especially with kids in tow. Friendly and reliable customer service, the ease and simplicity of MLI plus the hours saved from driving somewhere else and waiting even longer in another airport all make choosing your hometown airport a no-brainer.