MLI News Roundup
June 2, 2023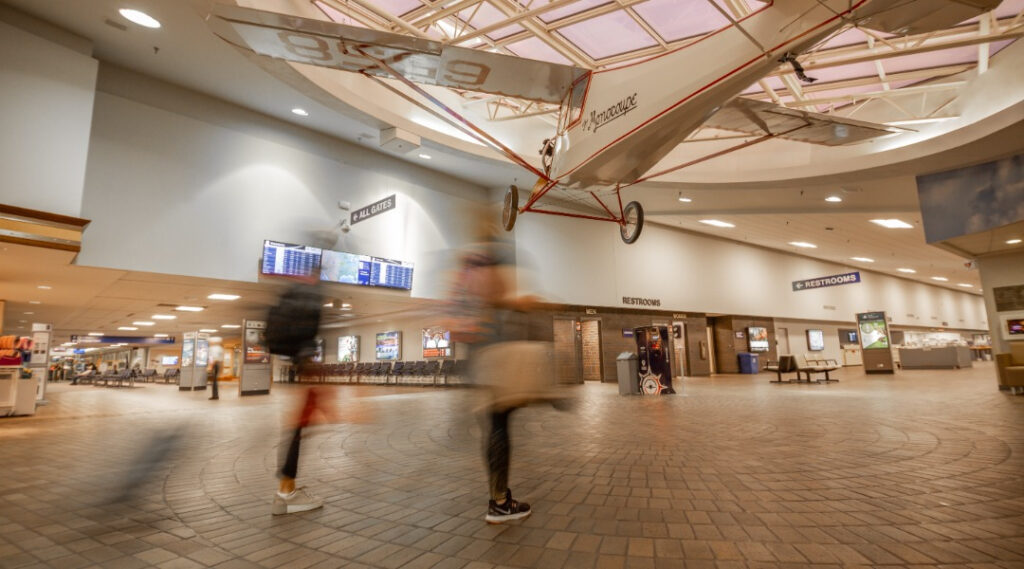 It's been a while since we've caught up on what's going on at MLI. Our team is meeting with airline representatives to push for more service out of the Quad Cities with aggressive incentives and plenty of data the airlines love. But there's a couple things we want to make you aware of before you travel this summer, and some celebrations we want to share. Plus, don't miss your chance to win up to $500 toward your next flight!
TSA Security Reminder
TSA is asking airports nationwide to remind passengers that firearms of any kind are not allowed through the TSA Checkpoint. Violations come with a hefty fine, especially if the firearm is loaded or ammunition is accessible to the passenger. Additional signage has been added to the checkpoint to remind you.
Here are some tips:
Check luggage before packing for your next trip to make there are no prohibited items in the bottom or in a pocket.
Firearms can be transported in checked bags but must be unloaded, packed in a locked hard-sided container, and declared to the airline at check-in. Always check with your airline to understand their policies. Read TSA's guidelines for traveling with firearms.
You will be expected to comply with all local, state or international laws regarding the possession of firearms. Please research any local laws prior to your travels.
Flights to Punta Gorda
What was once a seasonal route is now available nearly year-round! We're pleased to share for the second year in a row, Allegiant has made flights to Punta Gorda available through the summer, taking a short break mid-August-September. Airfare starts as low as $54!
MLI Anniversaries
We're celebrating not one, not two but FOUR major milestones!
Chris Myers, airport operations coordinator: Chris Myers is celebrating 15 years with MLI – but her career at the QC Airport actually goes back more than 30 years. After working on the airline side, she ultimately made the switch to our operations department. Take a ride with her around the airfield to see what it takes to keep our runways safe for aircraft.
Todd Newell, airfield maintenance: Todd Newell is also celebrating 15 years with MLI. He works in airfield maintenance and leads one of two snow removal crews that are on call 24/7 during the winter season. When he's not keeping our machines and airfield in top shape, he's also known as the airport comedian and we're thankful for the years of hard work and laughs.
Russ Margenthaler, airfield maintenance: Russ Margenthaler is celebrating 20 years with the airfield maintenance department! With a fleet of trucks, heavy machines and acres of airport property to maintain, Russ has a BIG job keeping everything in tip-top shape. Thanks, Russ!
Ben Leischner, executive director: Our executive director celebrates 5 years at the helm this month. New to the Midwest, Ben relocated his young family to the Quad Cities and now is one of our region's biggest cheerleaders, serving as the chair of the Visit Quad Cities board. Barely into his second year, Ben had the unenviable task of leading a team through a global pandemic. Airport traffic dropped 97% in one month. Big plans were put on hold and new routes were never announced. His goals were to make sure employees were supported and everyone kept their job. Now that the pandemic is officially in the rearview, he's full throttle on plans to continue bringing aviation businesses to the Quad Cities, ramping up air service advocacy efforts and planning a huge terminal renovation that will take the QC Airport into the future.
Monocoupe display
For all you history buffs, we have a brand new Monocoupe display. Invented right here in the Quad Cities, the Monocoupe featured an enclosed cockpit and side-by-side seating. The Monocoupe was famously flown by female aviator Phoebe Omlie, who named her plane Miss Moline. Omlie was the first woman to receive an airplane mechanic's license, the first licensed female transport pilot, and the first woman to be appointed to a federal position in the aviation field. She even raced against Amelia Earhart. A Monocoupe hangs in our atrium and just underneath it you can now browse news articles, pilot logs and see original advertisements for the once popular light-weight personal aircraft. Powered and ultimately manufactured by Mono Aircraft Inc, a division of Veile Motors Corporation, you can also see a Veile stained glass display on the other side of the atrium.
Go For it Summer Giveaway
We're celebrating summer with a massive giveaway! Tune into iHeart stations or enter online for a chance to win up to $500 toward your next flight! We know you love the Quad Cities, but sometimes you just need to go for it and get away! Trade river front for ocean front, prairie for mountain tops, or wherever else would make your summer extra special. Enter once day to increase your chances of winning!