Girls in Aviation Day 2023: Flying toward the future
September 27, 2023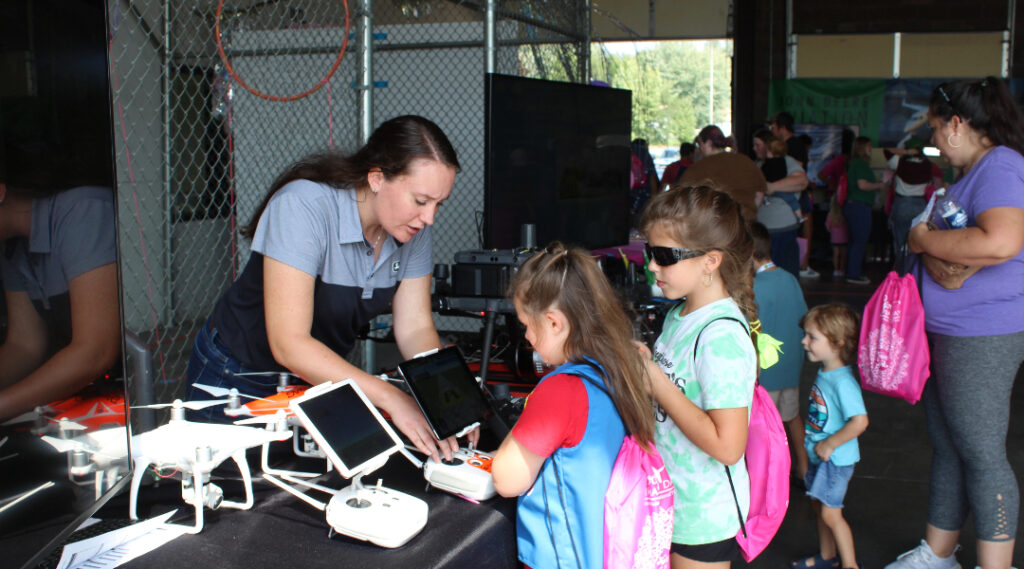 On Sept. 23, the airport hosted its third annual Girls in Aviation Day, co-hosted with John Deere and Elliott Aviation. Nearly 500 people came out to see more than two dozen exhibitors and experience flight simulators, drone demonstrations, fire and rescue equipment, and so much more. Aviation, like many industries, is struggling to fill critical roles including pilots, airplane mechanics and air traffic controllers. We're looking to change that with events like Girls in Aviation Day, and bring together passionate professionals who want to inspire future generations.
This year, exhibitors traveled from around the country to meet with local students including Envoy Air, one of the regional operators for American Airlines, servicemen and women from the Air Force and Marines, representatives from the Department of Homeland Security and TSA, and flight schools Revv Aviation and Quad Cities Aero.
Our goal in hosting an event like this is to engage our local youth and introduce them to something that they may never even have considered or felt was out of reach. We heard so many inspiring stories from young pilots about when the aviation bug bit them. One such story was shared during this summer's Quad City Air Show. Slot Pilot #4 Major Lauren Schlichting is only the 6th female pilot to have flown with U.S. Air Force Thunderbirds Demonstration Squadron in its 70-year history. She said she first became inspired to fly when astronauts visited her school. But it wasn't their NASA careers that inspired her – it was what they did before NASA which was fly planes. You never know when or where someone will be inspired, and we hope this event plays some role in helping our region's students discover something new.
We want to give a special thanks to keynote speaker Captain Latifa Gaisi with Envoy Air. Gaisi's aviation journey began when she enlisted in the New York Army National Guard in 2008 as a military policewoman. In 2010, she was deployed to Iraq where she rode in the back of a UH-60 Blackhawk for the first time and found her life's passion. In 2011, Gaisi began U.S. Army flight school, where she would train to fly the UH-60 and graduated in 2013. After graduating from flight school, Gaisi decided to pursue a career as an airline pilot and began her fixed wing training later that year. She was hired as a first officer by Air Wisconsin in 2015 where she flew the CRJ-200. In 2016 she was hired by Envoy Air where she is currently a Embraer 175 Captain. Gaisi has been hired by American Airlines and hopes to begin training with them in the fall. She is also still active in the Army National Guard as a C-26 Pilot, has risen to the rank of CW3 and hopes to retire in 4 1/2 years.
We also want to thank all the exhibitors and volunteers. This event depends on their generosity and enthusiasm, and we are so grateful to have such an amazing community.
Be sure to visit the airport's Facebook page @qcairport to see photos from the day. If you're interested in becoming an exhibitor, please email [email protected].
By the numbers: This year's event featured 26 exhibitors including 85 representatives, and 20 volunteers. And, thanks to all of you, nearly 500 people attended.