5 Holiday Travel Tips to Stay Jolly
December 13, 2021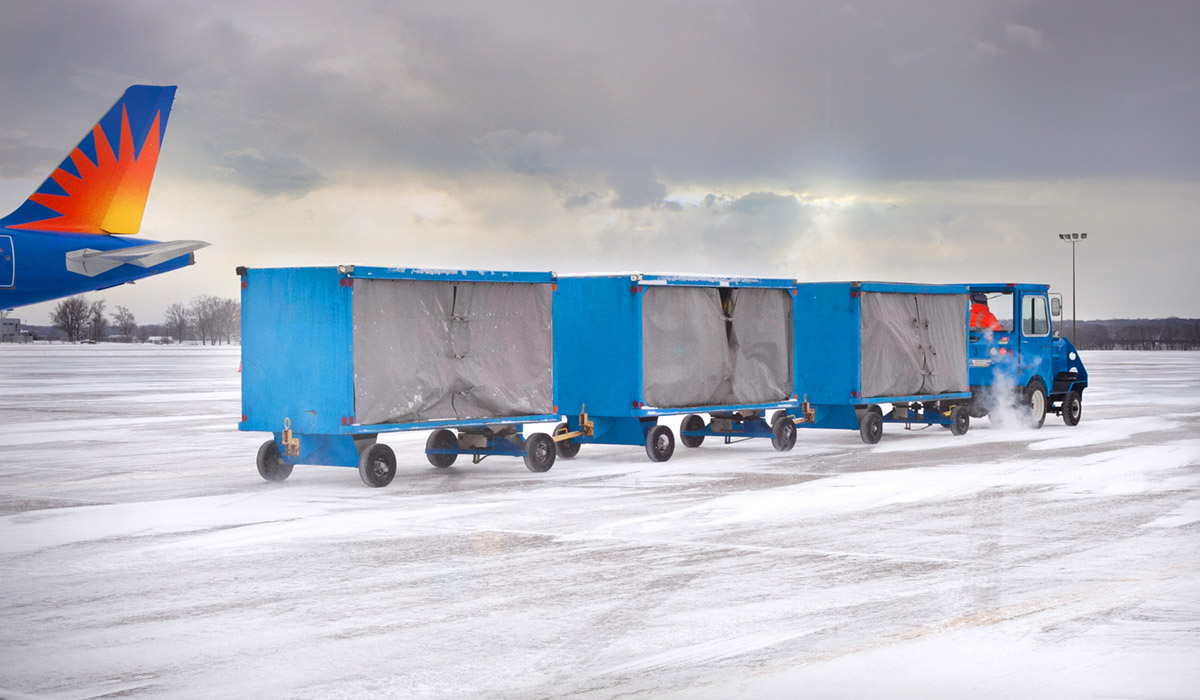 Holiday travel worries got you feeling less than jolly? Here are 5 tips that will help you skate through your trip.
1) Keep gifts unwrapped
We know you want to arrive to your family and friends' homes with your Pinterest-worthy packages in tact but if you're planning to fly with gifts in tow, you're better off keeping them unwrapped. This will help get you through TSA security screening as quick and easy as possible because if TSA spots something they need to take a closer look at, you may be asked to unwrap the gift. Save yourself the headache and wait to wrap until you arrive at your destination.
2) Know the latest COVID travel requirements – especially for international travel
New COVID travel requirements for international travel went into effect Dec. 6. The spread of a new variant has resulted in some countries re-entering lockdowns, and more stringent testing and/or proof of vaccination requirements. You'll need to know what is required and at what point in your journey you'll need to provide the required documents. The latest requirements can be found here. This is only for international travel – the rules for domestic travel have not changed as of Dec. 14, 2021.
There is also a federal mask mandate that includes all U.S. airports and public transportation including commercial airlines. The mandate has been extended through March 18, 2022. Free face coverings are available at each entrance at QC Airport.
3) The weather outside is frightful – keep your car covered
The weather can freeze up travel plans but you can prepare for it. If you're dreading returning home to a snowed-in car, keep it out of the elements with the new covered parking option in the premium (short-term) lot. There are more than 200 spots available for just $15 a day or $75 for a week. You can also still use the uncovered economy (long-term) lot just steps away from the terminal for $7 a day or $35 for a week.
In the event of extremely cold temperatures or heavy snowfall, our public safety team may provide assistance to your vehicle and help you dig out. Simply find a uniformed police officer in the terminal or a customer care team member (look for the gray or bright orange polos).
And, keep in mind, Santa's sleigh might not need a runway but planes do. Rapid snowfall can challenge even the largest snow removal teams but rest assured they are working as fast as possible to clear the way.
4) Make a list (and check it twice) – keep these contacts on speed dial   
Keep all the contact info you may need in one single location. Whether it's a note on your phone or a note card in your carry-on. Here are some of the contacts we recommend keeping handy:
Ground transportation: Rental cars and Uber drivers are experiencing shortages across the U.S. so have a plan when you arrive. Transportation options for MLI are available here. Your destination's airport should also have a ground transportation section of their website.
Luggage and lost items: Whether you need to know what size bags will fly, or your luggage goes to Tampa while you're in Tempe, contact your airline directly. If you lost something on the plane, contact your airline. If you lost it going through TSA, it will depend on the airport who claims the item so start with the airport and go from there. At MLI, TSA and airport lost and found is separate.
Delayed/canceled flights: If you have questions about your flight's schedule, need to re-book or if your flight is canceled, please contact your airline directly using the information provided above. You can also check the status of your flight on your airline's website, sign up for their text alerts or check qcairport.com.
MLI Customer Care: If you need a little extra help getting through the airport to your gate, give our Customer Care team a call at 309-757-1744 or text "skycap" to 309-429-9684. We highly recommend making arrangements before you arrive so you don't have to wait while they assist other passengers.
5) Fly out of your backyard
The QC Airport is just a short drive away from home meaning you don't have to start or end your trip with a long, stressful drive. Your time and money is extremely valuable during the holiday season. Use the money you saved on gas for that extra-special gift and maximize your time with loved ones by choosing to fly from your hometown airport.