Your community airport is upgrading value and service in the following twenty ways.

Implemented as of September 4, 2019
Developed current staff and attracted new talent with a strategic focus on retaining a well-trained, customer focused skilled workforce
Increased focus on board engagement, organizational transparency and accountability
Further enhanced the airport's role as a community gateway and economic engine by joining the Quad City Chamber of Commerce's Regional Opportunities Council
Secured new airline line-maintenance tenant and industrial park tenant 
Improved safety and security while maximizing flow of over $12MM Federal grant dollars into the region from FAA and DOT to upgrade airfield lighting and facility infrastructures
Expanded General Aviation offerings including affordable fuel and stop-over hospitality amenities
Streamlined www.QCAirport.com for app-like experience
Created and secured new long-term corporate sponsorship advertising positions
Pictured below is the IMEG Business Center super graphic installation on Concourse B.
Learn more about additional high-profile sponsorship opportunities . . .
Upgraded Business Center amenities and implemented paid membership program
Get IMEG Business Center membership details here...
Implemented secure online credit card payment portals for all stakeholders doing business with the airport 
Formalized new comprehensive ground transportation permitting fees and requirements including Uber and Lyft
Leveraged enhanced ground handling staffing to improve passenger experience and service levels 
Implemented new Ground Transportation and Local Visitor's Information touch screen kiosk and VisitQuadCities.com promotion 
---
On Roadmap for Upgrading by End of 2020
Leveraged $9MM public-private-partnership to reduce environmental footprint with solar energy infrastructure for newly planned covered parking. Estimated completion March 2020
Read more about the largest project of its kind in Illinois . . .
Increase Cargo Service customers and associated revenues with new business development and marketing 
Source reliable vendor for new curbside valet and coat check service 
Modernize all terminal rest-room fixtures and interiors
New Flight Information Displays, way finding signage, and zoned terminal public address (PA) system 
New north facing terminal facade and custom flooring treatment for brick flooring in terminal 
Implement and secure sponsors for children's soft-play areas and lactation stations in terminal and on concourse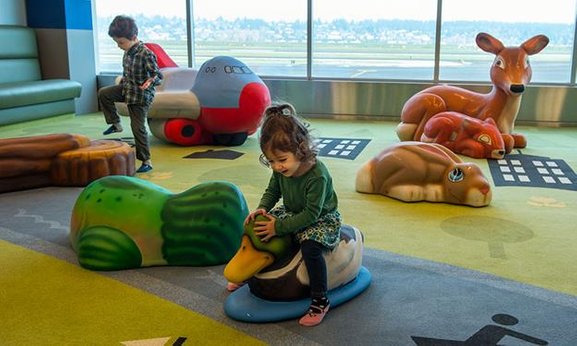 Benefits and pricing for this exclusive sponsorship . . .